"

"Unsung is the sixth album by the Texan singer-songwriter Jan Seides. I was not yet familiar with her music and was completely surprised after the first listen. In addition to a beautiful voice, Jan Seides also has the ability to write cool folk songs and the 12 songs on this album are wonderful. A must for modern folk enthusiasts and also a good reason to listen to her previous albums….""
— Musiekwereled.co.za – South Africa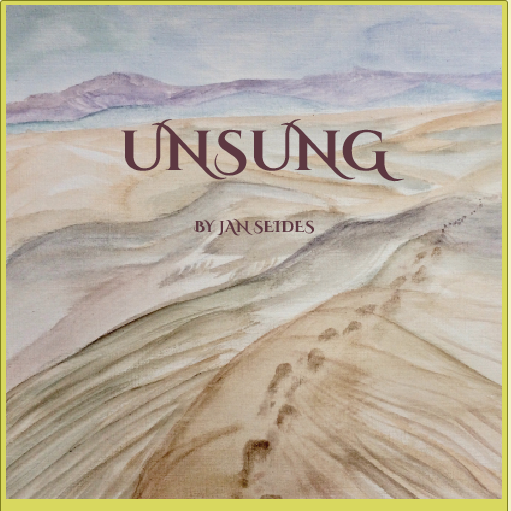 Stories from the Bible you never got to hear ....
Like all creative people, Austin singer-songwriter Jan Seides maintains a constant state of vigilance, always looking for the next idea, the next
inspiration. But she'd never imagined that simply singing a song she'd
written while laid up with a back injury would lead not only to her first album in six years, but to her first book, complete with her first foray
into illustration. Not to mention a pilgrimage she'd dreamed of taking
since she was a teen.
The song, "Sarah Laughed," was her take on the biblical story of Sarah and Abraham, which she learned when her daughter was studying it to recite for her bat mitzvah.
Seides didn't know it at the time, but that was the genesis of Unsung, a 12-song album packaged with a book containing lyrics, illustrations and short commentaries about each song.
"Sarah Laughed" refers to Sarah's reaction when an angel told her husband that she would give birth — despite the fact that both were over 100 years old. Seides' song addresses the difficulty of believing in miracles; at that point, she felt healing might require one.
But Seides recovered (no miracle needed), and after she performed the song one night, an audience member came up and suggested a book, Women in the Bible, noting the stories of those women might make good songs.
"They were all old, familiar stories, but this time when I read them, what struck me was how many important people in those stories never got any attention," Seides reflects. "Leah was responsible for eight of the 12 tribes of Israel. There are two sentences about her in the Bible. Two. I decided it was my job to tell those stories." …
MUSIC
The album was produced by Bradley Kopp; the book was illustrated by Seides and Vanessa Lively, who added watercolors over line drawings she encouraged Seides to create.
She began the project with "Rachel's Sister," the song about Leah, and then the story of Bathsheba's seduction and rape by David became "Your Neighbor's Garden."
"After a while, the songs started writing themselves," Seides says. "Mostly the subjects are people I didn't think got a fair shake from the narrative presented in the Bible.
Seides' rich, expressive voice, lovely melodies and elegant arrangements bring each character to life; her words, and the accompanying images, turn them into relatable beings. Kopp's production keeps the focus on her voice and their intricate acoustic guitar picking, accompanied only by occasional backing vocals (contributed by Kopp and Lorrie Singer) and subtle touches such as castanet chimes or woodblock taps.
"Since the songs were so complex, we made the production as simple as possible," Seides says. It was a wise choice; their beautifully interwoven stringwork provides all the momentum needed to help carry these stories along.
Press Photos
"A concept album of sorts, the Detroit-born, Texas-based Jewish singer-songwriter's latest album is a collection of a dozen songs inspired by and based on often overlooked women in the Bible, played on just acoustic guitars and packaged with a book containing lyrics, illustrations and short commentaries about each song. It opens in the New Testament with 'And So I Followed', the story of Mary Magdalene, putting to rights the misconception that she was a prostitute who washed Christ's feet, then it's back to Genesis and 'Rachel's Sister', a bittersweet account of Jacob's two wives, told from the perspective of the less favoured Leah (whose father deceived Jacob into marrying first), the theme of sibling rivalry returning in 'Mom Always Liked You Best', a ragtime retelling of the story of Esau and Jacob. Envy, lust, murder and desire are staple biblical ingredients, and so we get 'Your Neighbor's Garden' which, suitably sounding like something from a spaghetti western, recounts how Bathsheba was raped and impregnated by David, who also killed her husband. Naturally, mention of a David inevitably prompts 'Mighty Goliath' and, sung from his perspective and invested with a degree of sympathy, his death at the hands of the boy and his slingshot. And on the subject of strongmen, inevitably along comes 'Delilah's Lament', a revisionist, more complicated account of the woman who brought about Samson's downfall ("I only took the money 'cause it meant that I'd be free").There's playfulness here too. 'Dear Momma' is in the form of a letter home by Solomon's latest wife finding being married to a king with an insatiable sexual appetite isn't all it's cracked up to be ("He doesn't sing like his father did/At least not when he's with me/But he's built a beautiful temple, Momma/And he writes decent poetry"), signing off because she's been turned out of the bedroom to make way for the Queen of Sheba.Elswhere, the cast list includes Tamar (the fingerpicked, part spoken 'Gate of Enayim'), who, widowed and childless, dupes her father-in-law Judah into impregnating her so the line can continue; the unnamed daughter of Jephthah (the 60s folk-sounding 'No Name'), who unfortunately wound up as a sacrifice thank to her dad's rash promise; Dinah ('Not Their Fault'), the daughter of Jacob, whose lover was killed by her brothers in the belief that she'd been raped; and back in playful mode and curiously reminding me of Melanie, 'Because It's Gonna Rain' which, obviously, is about Noah's wife, Emzara, who can't believe the old man wants to build a big boat. It ends back in Genesis with 'The Truth That Remained', a circular fingerpicked guitar pattern framing the story of Sarah and her relief and praise for God when her husband Abraham returns home with Isaac, the son he had taken to be sacrificed. A fascinating outcrop of the #MeToo that turns a spotlight on the trials and tribulations of oppressed, exploited and often misinterpreted women in the Bible whose stories have only ever been footnotes to the patriarchal framework, and good tunes into the bargain."
— Mike Davies, brumradio.com, Birmingham, UK